cd
Stevie Rue and the Lucky Stars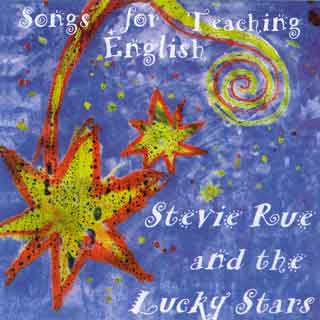 Druhé hudební CD od Steva Hildebranda na učení malých dětí angličtině. Jsou to ty, které slýcháváte při výuce angličtiny v Aaadě.
Step 2 in the series Stevie Rue's Songs for Teaching English ©2002 Steve A. Hildebrand and Aaada - www.aaada.cz - All rights reserved vocals + guitar Steve A. Hildebrand, guitar Simona Markova, recorded at Landscape Studios, Brandys nad Labem, CZ
Song list
Seznam písniček

01 Hello, Hello!
02 Wind the Bobbin Up
03 Clap Your Hands, 1-2-3!
04 Ring Around the Rosie
05 Here We Go!
06 Skip to My Lou
07 Picking Apples
08 Twenty-four Little Indians
09 A Hundred and Ten Little Mushrooms
10 Six Little Ducks
11 These are the Good Old Days
12 Chicken in the Kitchen
13 Do the One Step!
14 Let's Go!
15 I am a Dog
16 Oh, Where? Oh, Where?
17 Baby, Baby
18 American Indian
19 This Little Light of Mine
20 January, February
21 Recycle Plastic
22 Mary Had a Little Lamb
23 Lucky Star
24 I Love Flowers (Free as the Breeze)
25 Oh, Look at the Moon!
26 Twinkle, Twinkle, Little Star
27 Galileo, You are Right
28 Home on the Range
29 My Friends, My Family
30 ABC's
31 Camping Tonight
32 Go Tell Aunt Rhody
33 Are You Sleeping?